Librairie Gynarchiste

Gynarchy International propose essais, romans, bandes dessinées, livres électroniques sous divers formats... tous d'inspiration gynarchiste et traitant de suprématie féminine et lesbienne. Ces ouvrages sont inégalement disponibles en quatre langues: français, anglais, espagnol et italien.

Gynarchist BookStore

Gynarchy International offers essays, novels, comics, e-books in various formats ... all of gynarchist inspiration and dealing with Female and Lesbian Supremacy. These books are unevenly available in four languages: English, French, Spanish and Italian.
Librería Ginárquista

Ginarquía International ofrece ensayos, novelas, historietas, libros electrónicos (e-books) en distintos formatos... todos de inspiración ginarquista y tratando de la supremacía femenina y lesbiana. Estos libros son desigualmente disponibles en cuatro idiomas: inglés, francés, castellano e italiano.

Promotion of 3 gynarchist books by Aline d'Arbrant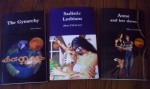 Promotion of 3 gynarchist books by Aline d'Arbrant (in english): – The Gynarchy (essay, paperback, 148 p) – Anne and her slaves (novel, 196 p.) – Sadistic Lesbians (novel, 204 p.)
Click on picture